Pain Management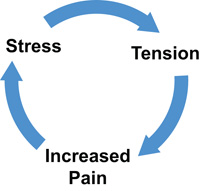 Children with ASD may not interpret or express pain the same way as a typically developing child. Do not assume that this means that children with ASD have a high pain tolerance. Language problems may hinder a child's ability to tell you about the pain experienced. Their inability to communicate pain may result in increased frustration, anxiety, or challenging behaviors. Therefore, it is important to determine the best ways to monitor and address pain in order to ensure the comfort of your patients with ASD.
Monitoring Pain
Research has found that children with ASD display significant facial pain reactions, and these reactions are comparable to children without ASD. A child with ASD may have difficulty self-reporting levels of pain due to language and research indicates that accurate parent report of pain may be inconsistent. Therefore, the most accurate assessment of pain is likely found using objective observations of facial experssions combined with parent or staff ratings of perception of pain through a tool such as a visual analogue scale.
Although not typically monitored during routine clinic procedures like venipuncture, changes in vital signs may also reflect pain.
Facial Cues for Pain
Furrowed brow - eyebrows are lowered and pulled together
Clinched eyes - partially closed eyes, tensed eyelids, and/or blinking
Flared nostrils - nostrils dilate
Grimaces - may include lips being vertically stretched, jaw dropping open, upper lip rising to expose upper teeth, cheeks rising to scrunch the area under the eyes
Preventing and Treating Pain
The approaches for treating pain include the injection of local anesthetics like lidocaine, the topical application of anesthetic gels or creams, and topical application of vapocoolant sprays such as ethyl chloride.
Because there is a large psychological component to pain perception, relaxation and distraction techniques play an important role.
References:
Messmer, R. L., Nader, R., & Craig, K. D. (2008). Brief report: Judging pain intensity in children with autism undergoing venepuncture: The influence of facial activity. Journal of Autism and Developmental Disorders, 38(7), 1391-1394.

Nader, R., et al. (2004). Expression of pain in children with autism. Clinical Journal of Pain, 20(2), 88-97.

Gilbert et al. (1999). Postoperative Pain Expression in Preschool Children: Validation of the Child Facial Coding System. The Clinical Journal of Pain, 15(3), 192-200.